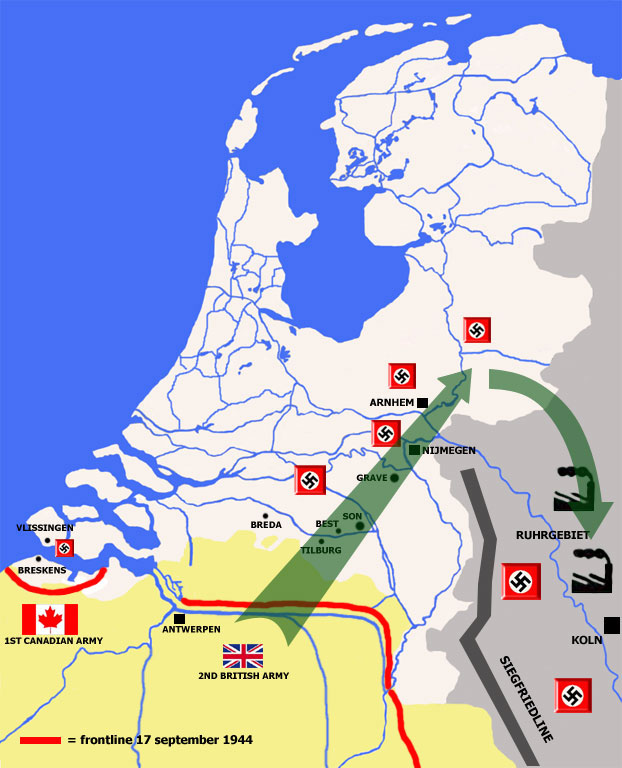 The Dutch & Belgian - German border from Belgium to Nijmegen, is protected by the strong German defense-line; 'Westwall' or as the Allies call it; 'The Siegfriedline'. It is clear to see Montgomery wants to bypass this line in order to go around it and move on to the industrial hart of Germany, The Ruhr-area. By taking this objective Germany would soon be cut of from it's main war industry and soon be defeated.

It also shows a weak point. The large distance which the ground forces had to move, in order to reach the main objective, Arnhem bridge. They had to move forward on a long small single road. (Hells Highway).
Pre WWII studies from the Dutch Army learned that this would almost be impossible to accomplish, as vehicles moving on this long small road would be easy targets for air and ground attacks.

The soil on both sides of this road were to soft for heavy equipment.
Just the reason why the German invasion in Holland in 1940 was planned differently, and also the reason why French help was not able to reach their targets in Holland on time to assist the Dutch Forces, as secretly agreed by both countries in case of an attack from Germany on France.